Adam4Adam Review – Gay Chat & Dating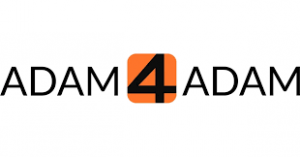 If you are wondering where to get a reputable gay online dating website that focuses mainly on casual and sexual encounters, then you should consider checking out Adam4Adam. Established in 2003, this site boasts as one of the pioneer sites in the online gay dating community.
According to its administrators and Hitwise, a marketing company, Adam4Adam now has more than 10 million users since its establishment. One of the reasons most people prefer to use this site is because it comes with some free features that are hard to find on similar sites for free.
The reason behind this is that Adam4Adam also gets revenue from pay-per-view adult videos, ads, donations, among other sources of income. The site is packaged with a wide range of gay men from different parts of the world.
Therefore, if you happen to be a twink, metrosexual, gay, or bisexual, you can rest assured that there is always something for you on this site. Anyone from any part of the world is free to join the site.
Adam4Adam Members
A lot of the members on this site come from the US. However, there are also other members from other parts of the world. The members are also very active, and you will notice that most of them are after no-strings-attached kinds of relationships.
Adam4Adam is also considered one of the most multi-ethnic gay dating sites on the internet, and 53% of its members are non-white. There are always at least 60,000 active members on the site at any given time.
Most of its users are aged 25 and above. Adam4Adam keeps on receiving new members each day, and its data indicates that it gets over one million unique visitors every month. For those in a relationship, there is also the option of registering on the site as a couple. 
How To Sign Up On Adam4Adam
Signing up on this site is easy and the process consists of two steps. During the first step of signing up, you will have to provide your valid email address, username, and password of your choice. After providing these details, you will then have to agree to the site's terms and conditions, and confirm that you are at least 18 years or above. 
The next step involves providing some important details for your profile such as gender preference, age, profile picture, and location. Further verification will be needed where you will have to check the captcha box provided, agree to the site's terms and conditions, certify your age, and give consent to the site's video chat.
You also have the option of verifying your registration via your email, though it is not a must. Registration can be done either from the full site or from its app. Also, your photos will have to be reviewed by the support team before they are approved. 
How to Make Contact On Adam4Adam
This site comes with simplified filters that are meant to make it easy whenever looking for a profile of your preference. The filters allow you to either be too specific or general with your search. When using the free version of Adam4Adam, you will be allowed to have up to three saved searches.
However, in case you need more, you will have to upgrade your account to a premium membership. As a basic member, you should ensure that you do not keep inactive conversations for more than 10 days because they will be deleted.
As a premium member, on the other hand, you will be able to keep the messages for a maximum of 30 days. Free users are also only allowed to keep a maximum of 20 conversations while premium members can keep up to 200 messages.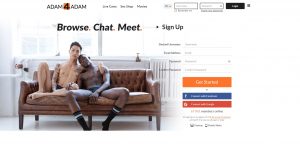 Quality Of Profiles On Adam4Adam
The profiles on Adam4Adam consist of users' details such as their relationship status, sexual orientation, physical appearance, and lifestyle. Your location is also displayed under your username. There is also a section provided for describing your profession, and a message box where anyone can write you a message.
Adam4Adam also makes it possible for users to hide their last profile visit, and in case you are traveling, you can create a secondary "Visitor Profile". If you happen to forget to add some information during the sign-up process, you also have the chance of updating your profile details later on. 
When it comes to uploading photos, the site allows you to add 2 photos. One of them will be your primary photo, which cannot be private, while the other one will be used as your primary App photo.
It is also important to note that your primary photo is supposed to be G-rated, and not be able to display any parts of your genitals, butt, or underwear.  However, this rule seems to be disregarded by some users of Adam4Adam because while browsing through most of the profiles, you will find that some of them are characterized by the display of genitals and butts. 
Does Adam4Adam Come With An App?
Adam4Adam has a mobile app that can be accessed by those people who would like to use it on the go. However, the app tends to lack in terms of design and functionality. This is because most of the features found on the main site are not included in the mobile version.
The decision to directly translate the main desktop site to the mobile version hasn't worked out well. It means that the mobile app is jam-packed with hard-to-press buttons, making it hard to use.
However, if you do not end up liking the app, then there is no need to worry since the site also has a version that is designed for your mobile browser. This version is much better than the app because it has some features that are not included in the mobile app.
You can rest assured that the mobile browser will guarantee you a better experience compared to using the app. However, it is advisable to try both versions on your mobile device, and decide which one works best for you. 
Real-life review of Adam4Adam
The following is a review from one of Adam4Adam users:
"One of the things that impressed me about this app is the fact that I was able to create a visitor profile whenever I traveled. This is something I haven't been able to find in the other apps. Most of the other apps will require you to create a new profile and pay again.
As a person that travels to other countries a lot, this has made it convenient for me in case I want to meet other guys. Another thing I like about this site is that whenever I feel bored chatting with other guys, I can always head over to the live cams sections and enjoy watching the shows. Something I would like the site to add is the option to state whether you are a top, a bottom, or a vers."
Adam4Adam's Design
Looking at the overall design of Adam4Adam's site, you can't help to think that there is a lot more that can be done to make it better. One thing that might annoy most of its users is the ads that seem littered throughout the site, and most of them tend to be porn in nature.
The functions, on the other hand, are very easy to spot. However, the site could do with arranging them better. Individual profiles also show users' details displayed in plain text without any particular structure. In general, the site needs to improve some aspects of its design to make it more appealing. Please check desing of other dating&chat sites: Fling, Fuckbook, Ashley Madison, WhatsYourPrice , Kasidie, BeNaught  Flirt and AdultFriendFinder.
Adam4Adam Costs
As previously mentioned, most of the features on this site are free since the site has other sources of revenue such as advertisements and donations. Therefore, it is not a must for you to upgrade to a premium version to be able to use the site. However, there are a few features that might require you to be a premium member to unlock them. 
When paying for a premium membership, you won't have to worry about your payment history showing a transaction from an adult site. Your payment history will show these charges as coming from SEGPAY.COM@A4A Network.
Another important thing to note is that subscriptions on this site are automatically renewed unless you choose to cancel this option. In case you want a refund due to one reason or another, you should ensure that you do it within the first fourteen days of the transaction. 
The following are some of the services that you can enjoy on the free membership:
Creating an account

Enjoy conversation lengths of up to forty messages

Search and post events

Send messages

Save up to 20 conversations

Read and receive messages from other users

View other users' profiles
On the other hand, if you upgrade to a premium membership, you will have access to these features:
ProAd – Ability to advertise your services.

Enjoy conversation lengths of up to 200 messages

Unlimited blocks

Unlimited friends

Your profile will be given priority when it comes to approval

Enjoy browsing the site without any interruptions from ads

Save up to 200 conversations
The table below shows the fee you will have to pay to enjoy the premium services
Duration/Credit/Coins
Cost (USD)
Total (USD)
VIP ACCESS

1 month

$6.67

$6.67

PRO

1 month

$20.00

$20.00
Adam4Adam Special Features
This site is packed with some unique features to ensure that you get the perfect person you are looking for. You will find a lot of interesting things on this site such as planning out-of-town hookups, buying sex toys, and watching movies. The following are some of the features that make this site one of the best gay hookup sites out there.
Sex Shop
This site comes with its online sex shop where you can purchase your sex toys among other things that will help you fulfill your sexual desires.
Live cams
Besides video chat, this site is also full of other shows that you can find under the Adam4AdamLive, A4ALive, and Adam4Cams features. However, it is important to note that you will be required to create different accounts to enjoy each of these channels. With a small fee, you will be able to view the channels in full without any restrictions. 
Underwear Club
This is an event where the site sends designer underwear each month starting at $10.00 for the first month. 
Movies 
Adam4Adam.tv is a feature that allows the site's members to watch their favorite porn videos. There are various ways the members can watch movies. You may opt for "Downloads" where you will be able to download a movie and own it for 7 days, 30 days, or for good depending on the fee charged.
You also have the option of renting a movie for 48 hours where you will be able to watch it as many times as you want within this time frame. The last option is "Pay-per-minute" that lets you purchase a time package where time will be deducted as you keep watching your favorite movies. 
Adam4Adam FAQs
Can I contact Adam4Adam if I have an issue?
There are various methods you can use to contact the site's admins from their customer support page. You may also directly contact them through support@adam4adam.com or via their social media handles. 
Why can't Adam4Adam detect my location?
It is important to note that only a few browsers have the capability of sharing geo-location. These include Safari 5.0+, Firefox 3.5+, Opera 10.6+, and Internet Explorer 9.0+. Therefore, if you have a problem with geo-location on Adam4Adam, ensure that you have updated your browser to the current version. 
How long will it take for my photo to appear?
The approval of photos on this site is normally done within 24 hours depending on the number of new registrants and technical difficulties. 
Can I enable push notifications on Adam4Adam?
Yes, you can find push notifications on the Radar app where you will be able to either enable or disable them. You can find them under the "Alert Settings" tab.
Can I remove ads from Adam4Adam?
For you to get rid of ads from this site, you will need to upgrade your account to the premium version. You can do this on your computer by heading over to the "VIP Features" located in "My Account". Here, you will get the option of turning off the ads. 
Can I delete my Adam4Adam account?
Yes, it is possible to delete your account. All you have to do is head over to "My Account", and scroll down to the "Other" button. There will be an option for deleting your account, and once you select it, a pop-up will appear requiring you to confirm the deactivation. 
Can I reactivate my Adam4Adam account?
Unfortunately, once you have deleted your account, you will not be able to undo the action or retrieve your deleted account's data.
Can my Adam4Adam account be suspended?
In case you fail to comply with the site's privacy policy, the site reserves the right to suspend your account. If you fail to recover the suspended account, then you can create a different one, and be careful to ensure that you comply with their terms. 
What is the process of reporting a member who is using my photos?
If you are using the desktop version, then you can visit the member's profile. Below their profile photo, you will see some orange buttons and a red one. Select the red button that is labeled "Report This User".
Under this option, you will find another option that allows you to report any photo violations. The support team will reply to your concern where you will be required to provide some details to prove that you are the person in the photo.