Javguru Review
Do you have a thing for Asian chicks? Are you ready to see them in action? At Javguru, you get to see crazy hot Asian ladies getting fucked like nobody's business.
The word Javguru may be new to you. Well, even if it is not a vocabulary for your case, there are very few chances that you know what this word means. Now that we are reviewing a porn site, you might be guessing;
Does it mean Jolly Amateur Vixens or Just Anal Virgins?
Someone once told me she thinks this is an abbreviation for Jerking at Vaginas. Another said he was sure it was Jelly-Ass and Voluptuous.
Well, the meaning is much simpler than anything else you might think. Javguru means Japanese Adult Video. And this is the exact thing you get at Javguru. The site is all about adult videos made in Japan. It is pure pornography straight from the land of the rising run.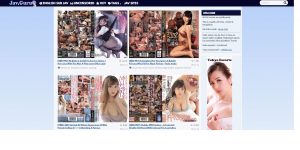 Watching Japanese adult video
Can you read Japanese? I bet you don't. But don't worry about it yet. You don't have to enroll in a Japanese course to view some ass here. The DVD covers dominating the website have words written in Japanese. However, the entire content on the website is in English. Plus, there are also translations of the DVD titles. You can therefore get details like the video names and pics.
You can even click through to get a larger view of the cover picture. The big titted Cheerleader with cum spread all over her face gave me a clue on what to expect at the site. In each video, there is a link to purchase it.
There are also streaming options if you want. I like that there are different streaming qualities. My first stream link did not work. But once the video loaded, it played well.
Let's Have a look inside of the Javguru
I clicked the fullscreen button and was redirected to a new tab. In this new tab, I got a fake critical alert from a fake window. But the video did not go full screen as I had expected. I tried the second time and it worked. I enjoyed watching the video on fullscreen.
I especially enjoyed performances from the Cheerleader I was talking about. The two hours I spent watching the video made me crazy. Her gigantic boobs and epic sexual adventures were exactly what I needed at the moment.
Dvd rips are one of the things that make Javguru unique. On other sites, all you get to see are a collection of short Asian clips. But at Javguru, you enjoy the whole action. And the site has also tried to ensure that you get as many videos as possible.
I used my laptop to watch the Cheerleader video. But the site also claims that all their videos are mobile-friendly. So if you want to enjoy some adult content during office hours, prepare for a long bathroom break. You won't miss an excuse to tell your boss.
If you loved a clip and want to watch it later, guess what, it is possible to do so. There are different download links offered. I have already downloaded the clip of my Cheerleader with gigantic boobs.
The fact that you get all the movie links for free made me wonder if this site is legitimate. I couldn't see anywhere written that some videos get posted without permission. I couldn't see where permission was granted either. There is an FAQ entry on how to legally purchase and obtain JAV movies. But this also did not provide the answers I needed.
A wide range of Asian porn categories
There is a link with the title 'tags' on the header. If you click on this link, you receive options to sort JAV videos by studio, tag, and actress. On each of them, you go directly to the respective list. If you click on 'tag', you get all these options in one place.
You are probably thinking of an exclusively Japanese category like Bukkake. Yes, you are right. And you also get to see all other options you see on other cam sites. Start with big tits, facials, creampie, and squirting, to mention a few.
Before, I used to think that nothing like super crazy porn would come from japan. I was wrong. At JavGuru, you can expect the kind of performance you see on other websites. There are also other tags for piss, drinking, restraint, tentacle, and groping.
I had an interest in the 'fighting action' tag. Then I found myself on a page featuring sexy girls dressed as superheroes and pro-wrestlers. But even with all the pleasure, there is one thing that pissed me off.
I developed an interest in a DVD cover of an extra sexy model. Instead of getting to the right page with download links and streaming options, I got something very different. I was redirected to a red page with warnings that the site ahead contains harmful programs. I had no option but to click back.
So I won't see this sexy check anymore, how annoying this is! But the lucky thing is that I could not end up with malware on my computer also.
Another thing I noticed is that the videos were not tagged the right way. For instance, the sexy Cheerleader I enjoyed watching was tagged in huge butt, beautiful girl, and ultra huge tits.
They must have missed other important tags. Just a look at the cover is an indication that other obvious tags could be there. The clip could have other tags like masturbation, doggy style, facial, and toys. But that video could not show up if you clicked on these tags.
I didn't have any problem with the actress and studio tags. I clicked on my sexy model again and found out that she featured on 17 other DVDs at the site. Imagine how busy I am going to be tonight!
If you love cartoon porn, you might be wondering if there is this option here. Unfortunately, we don't have Japanese porn cartoons at Javguru. But you will be pleased to know that they have a sister site which features the same.
Engaging comments
What I realized at Javguru is that both the video and comments are engaging. This is one thing that makes the site unique. In other sites, all you could see are cheeky comments like wow, her boobs are big, drop it on my face cutty. But not Javguru. Here, you find a paragraph explaining the film making process and even career backgrounds of these models.
The JAV glossary is another option that you should consider checking out. You can get a lot of Japanese words used on the website and their meanings. For instance, chikan means molester. Gokkun is the sound someone produces when swallowing. In this context, it is the sound that a girl model-actress produces when sucking off different dicks and playing with cum. If you come across the term kintama tsubushi, know that it means squeezing a guy's testicles till he gets nuts!
The terms are not that complicated. They are actually the things you see in other porn sites a well. Just that these words are written in Japanese. Like shiofuki means squirting and seishi means sperm. I love how unreserved the Japanese language is when it comes to stuff like these.
There are so many places to visit online when you want to watch some Asian porn. Besides, Asian porn features in so many categories in sex video sites. Javguru however only focuses on Asian performers. They have a large collection of DVDs so feel free to watch or download. There are no costs involved.
As for the drawbacks, I still wonder whether the site is legal. I didn't understand why I kept getting popups and malware alerts. That aside, this is the place to be when you want some spicy Asian fun. But like any other porn site, remember to be safe and in case of anything, always use protection.
What I liked in Javguru
Japanese pornstars
Free JAV content
A wide range of categories
A large collection of Japanese porn DVD rips
What I disliked in Javguru
Potential piracy
Pop-Ups
Potential malware