MyFreeCams mobile review: legit or not?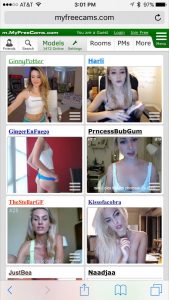 MyFreeCams is a popular adult video chat site where users have to pay before chatting with cam girls. Bearing that in mind, the best chat sites these days have one thing in common. This is a good mobile experience.
We have spent some time going through MyFreeCams. And we will share with you how this site is different from other video cam sites as far as the mobile version is involved. 
Comparing MyFreeCams to other sites
This is the link to MyFreeCams mobile version, m.myfreecams.com. All the features that you find here are exactly what you get in the desktop version. The only difference is that this one has a mobile layout. 
The desktop site has a Green Forest theme that makes it interesting. But the layout is quite outdated. That aside, MyFreeCams boasts of a large number of models displayed on the screen.
The model window fits well on the mobile screen, but you have to scroll more when viewing these models. Here are the tabs that you will find on MyFreeCams mobile.
Login: This is for existing users to add their username and password. They can then commence chatting immediately thereafter
Join:  Free new users register as a guest. What you need to know is that most models at the site mute the chat of guests. This means that you must create an account to enjoy all the juicy stuff in there.
Friends: After registering you can add models or other users as your friends and share messages.
Search: All models at the site are often blurry in video feeds. This applies to both the desktop and mobile versions. You can use this tab to find your preferred model
Models:  In this tab, you will find all the models who are online at the moment
Settings: you can use this for different filter options. This includes regions, display type, show among others
Rooms: Displays all the visited chat rooms
PMS: this is where you get the outgoing and incoming messages.
Menu: You get all the important features here. This includes; Changing the settings
Buying tokens

 Editing your profile and 

Exploring popular chat rooms 
You can check archives, news feeds among other things. You will also find a wiki page that answers most questions you might have.
In general, MyFreeCams desktop version seems to have cluttered icons. This is why MyFreeCams mobile is a more preferred option. 
The mobile version is first of all user-friendly. Navigating through the website is a walk in the park. On the flip side, there are very few HD cam shows on the mobile version.
The admins should be serious about redeveloping this site. This is the only way they can compete well in the industry. 
Every time I log in to the mobile version, one thing I notice is that I am not alone. So my account also plays a part when it comes to comparing mobile versions of different sites.
The difference between MyFreeCams and other mobile adult cam chat sites
These are the sites that offer the same experiences as MyFreeCams mobile.
Chaturbate
The site started back in 2011. It has since progressed to feature some of the most beautiful cam girls you can ever find. Girls here love getting naughty. Chaturbate is in the list of many top adult cam site reviews. We tested the site both on mobile and desktop versions.
The mobile version has an altered icon set up. This makes the layout simple and minimalistic. There is a mini tab at the top left where you can get most of the features at the site. 
Chatrooms: This displayed chatrooms of performers who are currently online. The different categories of models include female, male, couple, and trans
Female cams: You can get the most beautiful cam girls here. They range from BBWs to petite beauties, ebony among other options
Male cams: This is where you find all the gays and watch muscular guys flexing their abs. You can enjoy threesomes or strip teasing among other things
Couple cams: The featured shows here include gays, lesbians, and straight couples
Trans cams: The site has a large number of trans models as well. These models offer the best of both worlds if you understand what I say. 
You can find the advanced options tab on the right side. This helps filter the performers depending on HD cams, location, etc.
 I enjoy watching Chaturbate models on the desktop. But the mobile version is also very convenient. The only downside is that pages may take a longer time to load. But the fact that models here are enchanting and do a good job making the site worth checking out. 
LiveJasmin mobile
Compared to MyFreeCams mobile, LiveJasmin boasts of a large number of HD cam girl shows. LiveJasmin has been in the industry for over a decade now. They can brag about winning top awards. These include cam site of the year and live video chat of the year awards. 
If you want to watch thousands of pornstars and sexy amateurs, LiveJasmin is the site to go. We decided to check the mobile version as well since this is what most adult cam site lovers prefer using. 
On the mobile version, you can find all the tabs available on the desktop site. It is only the arrangement which is different. At the top left part, there are 3 horizontal lines opening the menu bar where you find these options.
Sign up: You enter a username and password to register at the site. Your email address is also needed.
Live cams: Find the top live cam models here
Mobile live: This is a new feature that the site introduced. It helps the models perform live using their smartphones
Awards: You can vote for a performer that interests you the most for them to win an award.
Club elite: This is a loyalty program offered by the site. You can earn points and make your way from crush to Casanova
Livejasmin app: If the desktop version isn't enough, you can go ahead and install the LiveJasmin app. This helps you jerk off at any location you want
The site also features a search tab where you can choose from different filter options. You can select from fetish, mature women, transgender among others. All said, the LiveJasmin mobile version works perfectly well. Don't shy away from trying it out.
Streamate mobile
Streamate mobile is the last comparison in this list. It is the number one ranked adult mobile chat site in the United States. This is all thanks to the talent you find in here. The site is especially popular for its 2-way video chat option. You can even expect more on their private shows. 
Streamate mobile and desktop versions share the same features. There are two different types of cams; guys and girls cams. There are over 1800 models performing at the site. These are divided into BBWs, Latina, big tits, porn stars, and many more choices. You will definitely be spoilt for choices. 
Some models at the site are so confident that they can get naked on live cam. Others are a bit shy. Streamate is not the site that claims to have guy models when there are only a few of them. Everyone can have a good time at the site, whether you are gay, straight, lesbian, or whatever. 
There are different types of male shows as well. You can enjoy watching gay couple ass rimming, chocolate hunk dancing, or Latino boy strip teasing. 
The different features available here include:
HD:  Streamate mobile version features HD sex cams, although not all the videos are HD
Party chat: The mobile version is a multi-user sex chat
Phone: This allows you to chat with Streamate models on the phone. You can also filter models depending on the region. I watched a few cam shows on the phone and had a good time. Overall, the mobile version has a smooth interface with a good number of HD cams.
MyFreeCams final comments
Summing up, MyFreeCams mobile is worth considering if you want to talk to sexy cam girls. However, the speed is quite slow and again, there are few HD cams. Just like I already said, MyFreeCams mobile is less stuffed than the desktop version. This makes it more convenient to use. 
Of course, you can find so many pretty ladies doing kinky stuff that is irresistible to watch. But the pages tend to freeze while watching the shows and this is quite frustrating. However, there is still room for improvement.
The admins should for instance consider adding more HD cams. This isn't to say that I don't respect the history and the position that MyFreeCams holds. I am only sharing my opinions on how the guys can make the site better. 
As said above, we have been testing and reranking adult video chat sites for years. We base our rankings on efficiency and ever-changing features.
We aim to ensure that you get detailed information on the best places to be when you want to jerk off with cam girls. This is the reason why we update our list of the best adult webcam sites every year. 
Some live cam sites started very well. But along the way, they ended up losing their charm. Other sites are cheap and impressive at the same time. Needless to say that other sites worth considering like Chaturbate, Streamate, and LiveJasmin.
These are also the best places to watch cam girls masturbate. Additionally, there are dirty cam sites that you should avoid. They include Pornhublive and Xhamsterlive. We even compiled a list of the worst video chat sites for adults that you should consider checking out.