DirtyRoulette- Get Down And Dirty Review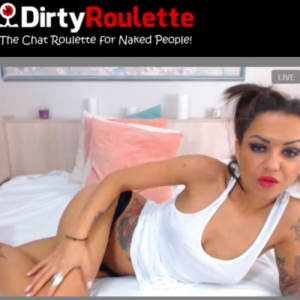 If you are on the lookout for a site that will guarantee you a unique sex experience, look no further than DirtyRoultette. This site offers seamless webcam services where users get the opportunity to approach other interested users.
Who is DirtyRoulette designed for?
As the title of the site suggests, DirtyRoulette is designed for those people who like to get naughty and dirty while chatting. The site comes with an excellent setup with a higher percentage of gorgeous women compared to other similar sites.
Where do I start out?
At the site's homepage, you will be required to provide your gender and click on the "Start chatting" button. After clicking on this button, you will be required to agree with the site's terms and conditions before you are taken to the main site.
While the site has a lot of men, you will also notice that it comes with a special setting that will help you to access the profile of girls only. In this review, we shall look at some of the positive and negative elements of this site.
The Sign-Up Process on DirtyRoulette
The sign-up process on this site tends to be a bit different from most similar sites. Verification of your age will be needed during this process.
This means that you will be required to provide your credit card details before proceeding further. The credit card should have your name on it and it is also supposed to be linked to your account.
Is registration free?
However, if you are a user who is concerned about privacy, it is advisable to acquire a one-time card that will help you with this. Registration is free of charge, meaning that once you provide your credit card details, you will not be charged any amount. It is your choice to make any purchases that might interest you.
Once you have completed your registration, the site will need you to allow your browser to access your microphone and webcam before you begin chatting with random users on the site.
How do I start chatting?
To begin chatting, users are supposed to click on the "Start Cam" button that is located below the camera icon. This button will direct you to any random stream where you will find a random user either playing with their pussy or dick.
If you have a preferred gender that you would like to be displayed, you can make this choice by using the gender filter located at the top-right side of the page.
The left side of the screen is dedicated to showing you the video while the right side contains the text window. To begin chatting, users need to type their message in a text field located just below the text window.
Below the video and chat windows, you will find information that will guide you on how to use the various features on the site.
What type of models can I find on DirtyRoulette?
There is a wide range of women on this site from various ethnicities around the world. You will also notice that there are a bunch of shy women on the site while others tend to be more confident, and in most cases, they will be already naked when you join the webcam.
Most of the time, these women will be performing in a group show meaning that you and a bunch of other people will be watching the same show. However, if you wish, you may also move the interaction to a private show.
In case you want to watch more ladies, all you have to do is click on the "Next Button". One thing I noticed about DirtyRoulette is that most of the women on the site are freaky as well as horny.
These women will go to the extreme to ensure that they satisfy some of your wildest fantasies. For similar adult sex, cam sites look at Chatspin, Livejasmin, Camsoda, Bongacams, Imlive, and Stripchat.
Chatting on DirtyRoulette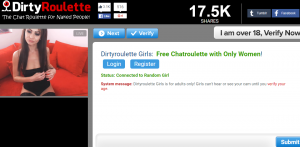 Besides video chat, the site also allows its users to communicate with each other via chat. However, I came to learn that most of the girls on this site do not prefer using this chat feature.
They prefer to interact through talking, dancing, and showing off their sexy bodies. Unlike most similar sites where women look more animated when performing, on DirtyRoulette the women are real, which makes the interactions more fun.
What is the site's design like?
Despite having an older design, this site seems well put together, and it is easier to interact with the models. The text feature allows users to talk about different things such as sex, life, turn-ons, among others.
In case you want to chat with the girls via audio you will need to join a private show.
Is there a good choice of Horny Women on DirtyRoulette?
It is not easy to get bored on this site due to the sheer number of horny women waiting to give you an unforgettable show. After checking out several shows, I can guarantee you that there are a lot of experienced women on this site.
Most of them are sexy, confident, and ready to give you a great time. When it comes to the quality of cams, this site does not disappoint.
Many of the cams are of the highest quality, and there are no buffering issues on the site. The frame rate on the site seems to be 30 FPS, and most of the videos start at 480p, which is better than I expected.
The Downsides of DirtyRoulette
One of the things that did not impress me about this site is the fact that it seems to use an old platform, which isn't updated regularly.
However, this should not be a major concern because the site comes with some great features and it is easy to navigate.
Lack of full-screen capability
DirtyRoulette should also consider making it possible for users to go full-screen with the sex cams in order to make the experience more interesting.
This is because there are some sexy women on the site that you would like to see on a larger screen to explore more detail on their bodies. However, you can manually do this by zooming in your browser, but it would still be better if the site added the option on the webcam.
The site should add more HD webcams
As earlier mentioned, the cam quality on this site is very high, and it is ideal for modern-day users who prefer watching the webcams from tier cellphones, tablets, and laptops. However, I feel that the site should consider adding more HD sex cam options.
Audio improvements needed
Moving on to audio, some improvements will need to be made in order to make the experience more appealing to users. Since most users prefer using their computer speakers, microphones, and cams, the site should look into improving its volume control.
This is because users are not allowed to adjust the volume on the site according to their preference. The only available option is to either turn the volume on or off.
As much as users might adjust tier computer volume, it is still important to have the on-screen adjustments to make it easier for most users.
What is DirtyRoulette's Website Format?
This site comes with a unique design that makes it stand out from most of its competitors. One of the most unique features of the site is the random option.
This option allows users to sift through a ton of sexy profiles until they come across one that suits their preferences.
Using Private shows
Once you come across your preferred babe, you can strike a chat with her and see if it would be worth taking the experience to a private show.
Once in a private show, you will be able to communicate with the model either via cam to cam or via two-way audio.
Multiple users watching the same model
It is also important to note that once you come across your favorite model after performing a random search, the show will be public. This means that there will be other lots of guys watching the same babe.
Get attention from the model by tipping
So, in case you need a little more attention from the model, then you should consider sending her a tip. Besides tips, there are also a bunch of other ways that you can use to encourage and motivate them. Some of these include flirtations, conversations, compliments, among others.
Final Verdict
If you are someone who loves to try new things, then this is one of the sites you should consider looking into. Besides the audio quality and the age verification method, DirtyRoulette seems to have a lot of positives.
Lots of model choice
This site guarantees you a wide range of women with different ethnicities, body types, sexual proclivities, and personalities.
DirtyRoulette is unique in its own way compared to other similar sites, and in case you need to understand how the site fully works, then you can check out their FAQs page. The site's customer service is also great.
Therefore, in case you are into cyber-sex with like-minded people, DirtyRoulette should be a perfect site for you.
Lots of users mean unlimited cam niches
There are a lot of members on the site, which means that you will never lack options whenever you are looking for some webcam fun. Like any other site, this site comes with a couple of minor drawbacks already discussed above, but the overall experience is fantastic.