Fling Review 2021
Have you already visited fling-com? If yes, then you are already aware of what the site is all about. This is an adult site, like any other. It contains nude photos and adult content and is usually for casual hookups.
But if you are not into the dirty content, the site has a 'safe mode' option where you only see regular pictures. However, a lot of people who visit the site are interested in having sexual adventures.
You are free to experiment with everything at the fling.com. This site is actually the place to be if you want to get an adrenaline rush. Here, people not only share their sexual fantasies online but are also willing to meet for an actual date!
The people you meet at fling.com will in no doubt make your life an adventure. And if this is what you want, there is nothing that should stop you from taking the chance.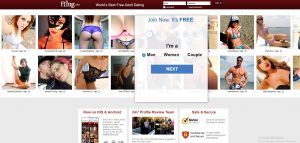 Login to fling-com
At the site's homepage, you find a registration form that is simple to fill. Here, you provide the following information;
      Your gender

      Gender you

are interested

in

      Email and password
After this, you need to select your interests from the following options;
      Friends with benefits

      Experimenting

      Meet in person

      Online flirting

      Open to relationship
Other filter options include;
      Your preferred age

      Your preferred region

      Whether you would want users without profile pictures to appear on your search
Before using the website, it is good to upload your picture. But you can still share your pictures via chat.
The site has verified users. These are the people who have been verified by the website's customer support team. The representatives contact you through a video call to ensure that you are a real person. After this, they verify your account.
Fling-com interface 
Once you register at fling.com, the site is free to view. The homepage is full of pictures and information. On the top, there is a line of moving photographs which is quite distractive. The good news is that it is possible to hide those moving pictures.
Below the line, you find a search bar that helps users filter the age, location, and gender. You can see your profile on the right and members online on the left. After this part, there is an offer inviting you to upgrade your profile.
It also lists the prices and benefits of each package. You can find users who are streaming at the moment and featured users. At the lowest part of the page, there is a disclaimer which states that only people of 18 plus years should use the site.
But there isn't any age verification during the registration process. This means that you are also likely to find minors there. There are links to social media accounts which include Instagram, Facebook, and Twitter.
Fling-com Site features
Filter option
The filter option is a useful feature at the site. It helps members to find their matches based on the following preferences; 
Body type
      Eye color

      Hair color

      Religion

      Race

      Professional

      Language

      Income

      Interests

      Marital status

      Location

      Age gender

      Sexual preferences
With such a robust filtering option, you can find a match and start flirting in minutes. The site makes it possible for you to find a match with your preferred income, interests, and religion. In short, the filter option at fling.com is both time-saving and useful.
Online users
This is also another useful feature at the site. It displays users who are online at the moment, making it easier to choose a match from people who are online. By this, you get an instant response and won't have to wait for days to read a message from your crush
Verification
Adult sites with a verification process are more trustworthy. Verification creates a secure environment for the site's users. At fling.com, a customer care representative verifies the person through a webcam. If it is the same person that appears on the profile and photos, then the account will be verified.
Fling-com- Video chat and streaming
Fling.com has a video chat option which is an important feature for every dating site. If you are chatting with an unverified user, you can know whether they are real people through a video chat. Unfortunately, some unverified accounts might be fake. And this can ruin your dreams of getting a perfect match at the site.
The site also has a streaming feature. This may not be the most popular feature. But it is useful for attracting visitors and friends to your profile. After all, it is only when people know you are real and honest that they get interested in you.
There are also other interesting features offered at the site. These include the chat option and blurred photos. With the chat option, you don't need to open each profile on a new tab when you want to chat. And on the blurred photos, well, you can either decline or accept it.
Fling-com users
Most profiles at fling.com have inappropriate or strange photos. Some of them only show half face, while some photos are either too dark or too light. There are also profiles that show photos of other body parts. Once you turn off the safe mode, there will be plenty of nude photos waiting for you to see. Well, this is probably what brought you to the site, so you are going to have fun here.
If you are yet to upgrade, it is only other free members that you can communicate with. Upgrading your profile offers access to featured profiles. Featured members are free to contact any person on the site. As much as there is a likelihood of having fake accounts here, it is rare to find them.
The customer support team has seen to it that most of their users are real. The site has been around for over 11 years and has attracted users worldwide. This gives you peace of mind knowing that you are always safe when having fun at fling.com.
Number of users
Fling has users from all over the world. As we already said, the site has been active for eleven years now. This has made flings.com a trusted site for adult fun. You can find over 1500 members from New York in the afternoon.
Find the same number from European cities and Budapest. If you want to hook up with someone from an adult site, then this is the best place for you.
Quality of users
For new visitors, fling.com gives assurance that there are no fake accounts on the site. Their customer service team is available 24/7 to ensure the safety of their members. However, the members can post all types of explicit photos, so long as it makes them happy.
So feel free to post as many nude photos as you want. The members are as well advised to respect each other. If there is any misbehaving user, you have a chance to report him or her. To conclude, the more photos you post the higher chances for success in this platform.
Type of members
The site has 3 different types of accounts;
      Free accounts that require at least one photo

      Verified account, which are the ones verified by the site's customer support team

      Featured accounts, which are premium accounts on this site. Here you need to buy a membership and have unlimited access to the site's features. This membership can be for two days, one month, six months, or one year.
Communication with users
Effective communication is important in every dating site. As a matter of fact, this is the reason why people create a profile in the first place. To communicate. Maybe you are looking for someone to share your passion and interests with. And you can only interact well if the site offers effective communication features. Fling.com offers several communication options'
      The wink option. You only need to wink a member you love and wait for a response. To succeed with this option, your pictures need to be attractive.

      Chatting with online members. Here, you need to check who is online and start a chat. If a person notices you and decides to send a message, then there is probably something special.

      Leave a message.

Just

write your message, send, and wait. This is a good option to use for a member you love but isn't online at the moment.

      The last option is video chatting
Fling-com pricing
The featured accounts, which are premium accounts, offer more opportunities. Here is a breakdown of the premium account costs
2 days trial: 1.14 Euros. Few features are available here. It helps members make a decision on whether they should upgrade or not

7 days trial: 12 Euros

1 month membership:  42 Euros

 6 months membership: 83.94 Euros

Yearly membership:  96.00 Euros plus a 6 months free gift
If you buy the one-year membership, it means that you can enjoy all the accounts features for one and a half years.
Free accounts
Anyone can access the free account option at fling. If you are a new member, use the free account to familiarize yourself with the site before upgrading. You can communicate, view photos among other things. You can also filter your options and find members interested in sex. Free users can access both advanced and simple features.
Premium accounts
Premium accounts enjoy many attractive features. First, you can make use of the site's features without any limitations. Secondly, you can send a private message to other users. And thirdly, paid or premium accounts appear first in search results.
With a premium account, you can easily find a person who meets your preferences. Your profile will also appear on the homepage thus increasing visibility.
What you enjoy in premium?
Premium accounts offer members some form of freedom. Once you have a premium and verified account, be ready to enjoy fling.com to the fullest. Premium accounts also offer safety and confidentiality.
No members with free accounts can send you a private message. You only chat with premium members like you.Is a premium account worth considering?
In our opinion, yes. A premium account is worth taking. This is especially for users who are looking for serious partners. Besides, your profile will be attractive for anyone who would want to have you for the night.
The verification and premium features are some of the things that make the site stand out. The fact that there is no single restriction in premium even makes the site more interesting.
Security and anti-scam
Getting scammed on the internet isn't a new thing. when your profile is more detailed, it can be vulnerable to scammers. But just like they always say, security begins with you. If any member requests for your personal information or money, report them immediately.
The site however has several features that protect members from scammers. For instance, the support is always monitoring members to ensure a safe environment.
Customer support
Fling.com customer support team is always busy monitoring accounts. But if you have any questions, they are also there to give answers. Simply complete a form available on their website. The site encourages its members to read the help section before contacting them. You can get most of your answers in this section.
Is there a Mobile version?
Fling.com doesn't have a mobile app. However, the website is mobile-friendly. You can access it from any location through your phone browser. The mobile version looks more structured and organized.
You also get to enjoy the same features as the desktop version. The filter option works faster and the chat option is more responsive. It is also easy to scroll and check members' profiles. Fling.com's mobile version makes it easy to enjoy the fun from anywhere you are. Just remember to turn on safe mode when you are in public.
Final thoughts
Based on our fling.com review, we can conclude a few things. First,  the site is specifically for adult fun. You can get anything you want when it comes to sexual adventure. We can't say that fling.com is the safest place to be. But no other adult cam site is 100% safe either.
Still, your privacy is to some extent  secured at fling.com. The customer service team is always working on this. Just like any other site, there are also the pros and cons associated with flings.com. But everyone can find something unique to get from here.Fling.com also has a sex cam girl's page.
You can get sexy ladies for virtual sex there.  Please review similar Dating sites from our selecton: Adultfriendfinder, Fuckbook
Pros
A large number of users looking for sexual adventures

Functional and convenient
Safe
Membership is affordable
Cons
The main page has lots of photos

Website isn't stylish