xHamster Cams Review
If you are looking for a cam site that guarantees you a wide range of categories to satisfy your sexual fantasies, then you should consider checking out xHamster Cams. With this site, you will be able to see who is online at any given time, and what they are doing.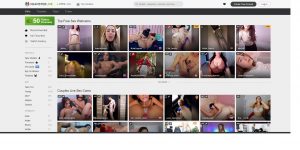 xHamster Cams Features
xHamster Cams gives you the opportunity of performing advanced searches that will help you to get a suitable model that suits your specific preferences. You can search for models based on their body type, gender, and sexual preferences.
The site also allows you to sort your results according to the models' region, language is spoken, and the kind of experience you wish to get from the webcam performance. Other features you can expect to find on xHamster include choosing the quality of audio and video you wish to experience, gold shows, party chats, and the ability to call in.
The Gold Shows feature
allows users to put money into a "Pot" that will then be required to reach a certain amount for the show to begin. Most users tend to find this feature boring because you will have to wait for the required amount of money to be reached before the performer starts the show.
However, this should not be a big concern because this feature comes with a countdown that lets you know how long you have to wait. You may also leave the room and join another one in case you feel it will take too long for the show to begin.
When it comes to video quality, you can rest assured that you will find high-quality smooth videos on this site coupled with clear audio.
However, it is important to note that the quality will vary according to the model that is performing for you since some of them tend to use quality equipment than others. Therefore, you should expect to find a few models streaming in average video quality.
Chats Quality?
Chats on xHamster Cams are as basic as you would expect from a cam site. There is a text chat feature that you can use to communicate with the models. However, in case you want to chat privately with a model of your choice, you will be expected to have enough gold credits.
It is also possible to view the profile of a performer that includes some information about them. You will be able to see information such as their turn-ons, appearance, experience, age, and some information about their shows. xHamster Cams also allows you to view the performer's videos and photos, view comments from members, and also follow the schedule of a performer.
In case you opt for the "Party" session, then you should be aware that there is a possibility that the model might suddenly disappear. This normally happens when the model has received a private session request from another user.
However, if you have paid for a private session, then this should not be an issue to worry about. There is also a possibility that the performer may be irked with what other users are typing during the session, which could end up ruining the entire experience. For similar sex cam sites look at Cam4, Camrabbit, Livejasmin, Camsoda, Bongacams, Imlive, and Stripchat.
Online waiting to perform for you?
There are always models online waiting to perform for you. The number and variety of the online models may not be great as compared to most of the other popular cam sites. There are times when you might find a few hundreds of models online, and other times you may find them in their thousands.
The site's customer service is always available at any time of the day or night to help you in resolving any concerns you might have.
However, most of the users claim that it is normally hard to get hold of their support, and once you do, you will be given abrupt answers, and at times no follow-ups are done in case of an abrupt end to the chat.
Conclusion
xHamster Cams comes with a decent amount of free content that you can enjoy. However, without spending any money, you will notice that most of the users who have more gold than you will always have an edge over you.
The information indicated on each performer's profile can be very useful when looking for a performer that meets your requirements. Once you identify a performer that gives you great shows, you may choose to follow their schedules so that you do not get to miss any of their shows.